---
NUIT BLANCHE / SLEEPLESS NIGHT

tango argentino
24 und 25. März 2010 im Theater Akzent
Eine phantastische Tango-Show, mit unvergleichlichen Choreographien, wurde in der "Nuit Blanche" im Theater Akzent geboten.
Alle Zuseher stimmten darin überein, dass diese Show wieder nach Wien kommen wird!
Nach der Tango-Show gab es noch einen VIP-Empfang mit den TänzerInnen und zahlreichen Diplomaten aus den Lateinamerikanischen Ländern und Vorstandsmitgliedern und FreundInnen sowie Unterstützer der Österreichisch-Argentinischen Freundschaftsgesellschaft PaN im Foyer des Theaters, wobei auch hervorragende argentinische Empanadas und argentinische Weine aus dem Weingut "NORTON" aus Mendoza/Argentinien verkostet wurden.
Eine Veranstaltung im Rahmen des Projektes "Argentina-Straße 2010" - 200 Jahre Unabhängigkeit Argentiniens - mehr dazu ...
Hier ein paar Fotos von diesem gelungenen Abend: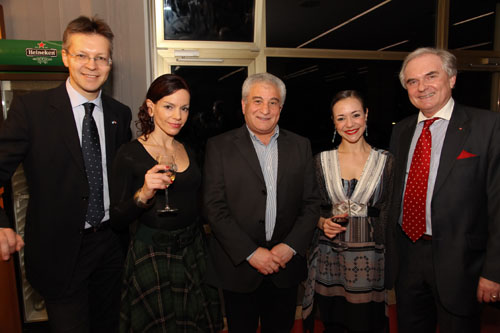 Einen Bericht dazu gibt es auch unter:
click: Mein Bezirk

nuit blanche:
A tangueran exploration about night.
An exposure of its demons, fears, desires, instincts and fantasies…
A club, one night, a crowd: a sleepless night.
A sleepless night to light the night, when alcohol and isolation bring people together…
and tango as the only way to let the bodies express themselves.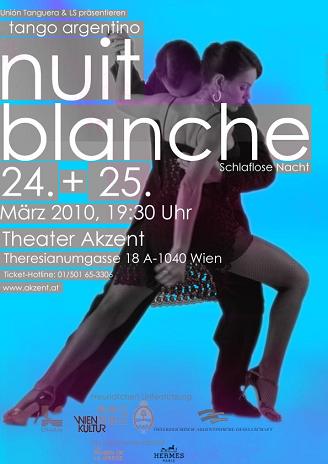 By using a contemporary, pure and revised tango, Nuit Blanche weaves a sensual framework in and out of "abrazos", alongside hatred, desire, loneliness, hope, despair, friendship, passion, love, misapprehension, celebration and defeat. Nuit Blanche opens on a scene in a night club at the end of a traditional tango show - at the moment when the artists turn back to human beings blending with their audience. Back to real life. The music will be traditional, using original recordings, and contemporary with a new composition which will place it in a new theatrical perspective.

Nuit Blanche is the third creation of the company UNION TANGUERA presented by the same group of artists and with an original spatial and scenic design.
---
| | |
| --- | --- |
| Letzte Aktualisierung am: 15.04.2010 | Für den Inhalt verantwortlich: Joachim Chen, email: franz_ratzka (at) yahoo.de |